What is Nippers?
Ever wondered what all those kids, big and little were doing on beaches on Sunday mornings from 9am? Well read on, and come and join the fun!
Junior Activities Life Saving is commonly known as "Nippers" and is made up of infants, primary and secondary school aged children, in the Under 6 to the Under 14 age group.
It is a great way for kids not only to learn how to be safety aware at the beach but also how to build confidence in the water.
The activities are run by a group of trained supervisors called Age Managers. Our Nipper Age Managers teach based on their experiences across patrolling, competing, or just enjoying the surf in order to build teamwork, individual skills and confidence in the Nippers.
During Nippers, children will learn a variety of skills depending on their age group, including: Rips & Currents; Safely moving in and out of the surf; Board paddling; Swimming; Sprinting; Wading and fun activities and games. North Curly emphasizes fun whilst developing these important skills.
Practicing these skills helps develop competence and confidence in the surf environment. It also allows children to compete in Club, Branch and State Lifesaving carnivals. Through Surf Life Saving Australia (SLSA) Nippers have the opportunity to participate in junior development camps throughout the season.
A typical Nippers Sunday will include:
8:15 – Beach Setup by Rostered Age Group led by our Sunday Nippers coordinator
8.30 – Introduction to boards (U9+)
8:45 – Age Manager briefing
9:00 – U6 & U7 Sign-in
9:30 – U8+ Sign-in
11.00 – Nippers Sign-out (and caps off!)
11:15 – Beach pack-up by Rostered Age Group led by our Sunday Nippers coordinator
Who Can Join?
Any girl or boy may join Nippers and you DON'T have to be competitive or athletic or even confident in the surf. One of the best things about Nippers is seeing young children who are scared of the water lose their fear during the season. 
North Curl Curl's goal is to make Nippers as inclusive as possible and this is represented by our commitment to run Nippers for children with any level of ability. Children with learning challenges or with physical impairments are welcome to participate on a Sunday morning through a specialised program called Ripper Nippers. For more information head to the Ripper Nippers Page.
Extra training sessions are on offer dependent on your skill level – for more information please discuss with your Age Manager.
Age Groups
Children can join Nippers in the U6 age group (from 5 years olds) through to the U14. 
Please Note: A child cannot be involved in a Nippers program until they turn 5 years old (eg/ if a child turns 5 on 1st November, they cannot join in or partake in any activities until 1 November)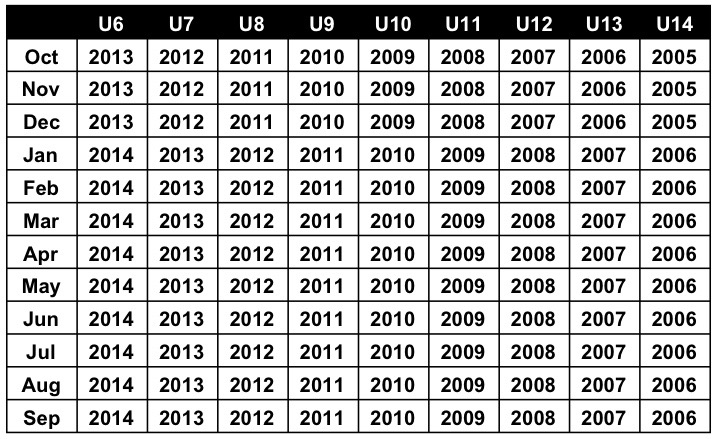 The guide will help you calculate the relevant age group for your child.
Children are divided into Age Groups: U6, U7, U8, U9, U10, U11, U12, U13 and U14. The child's age is taken as at 30 September each year. For example, if a child hasn't turned 10 on or before September 30 this year, they would be in the Under 10 age group for the whole of this season.
Each Age Group has Age Managers who organise, run and control the activities each Sunday. Most Age Managers are parents too.
Parent Involvement
As a volunteer organisation, Curly Nippers is run by parents and the club encourages ALL parents to put their hands up and help make it a success for the Kids.
Parents are actively encouraged to participate in their child's Age Group activities. Many parents are former (or current) members of Life Saving Clubs and assist with the provision of water safety for events.
Other parents act as age officials, managers or committee members (Bronze not required for these 3 roles). Any parent who is interested in doing their Bronze Medallion please see the Education Section of our website
Proficiency
Before any child is allowed to participate in any water event or activity (ie. an event where they would be in water out of their depth) they are required to take a proficiency evaluation.
There is a Preliminary Swim Evaluation Day for Nipper Age Groups U8-U14 & SRC. Nippers are required to complete a pool swim and float proficiency either before the season commences or during the first week of Nippers. Please see the Preliminary Swim Evaluation Page for more details.
Children who do not pass the minimum proficiency can still aprticipate in all activities, however for safety they require 1:1 Water Safety if entering the water.
Children who wish to compete at carnivals in both water and beach events will be required to undertake an open water swim proficiency. Please see our Carnival page for more information.
Sunday Activities…
Under the control of their Age Managers, children participate in several events. Depending on their age and competency, activities may vary.
To give you a brief idea of what happens on the beach: –
Sign in and registration – look for your Age Manager on the beach in front of the clubhouse, by the relevant age marker.

Beach races – 

running over a set distance on the sand (50m – 70m depending on age);

Flags – 

lying flat on the sand, then getting up and running a short distance to grasp lengths of hose standing in the sand;

Beach relays – 

teams of four run a relay over similar distances to the beach;

Surf wade – 

running through the shallow water around a heavily supervised course (usually for younger age groups)

Sign out  and end of Nippers – tick off name on the clipboards provided and remove your Nippers caps
Water Activities
For U8 and above age groups only where the children have met certain proficiencies there are:
Surf swims – swimming from the beach, around a "U" shaped course 80m or more.

Board races – similar to the surf swim, but paddling boards around the course.

Run/swim/run – a race combining two sprints along the beach separated by a swim leg.

Iron Woman/Iron Man – a race involving running on the sand, swimming and paddling a board around a set course.

Board relay – a team paddles their boards in turn around the course.

Board rescue – one competitor swims out to a buoy then the next competitor paddles the boards to them, picks them up and paddles back to the beach.
Further Information
Fees