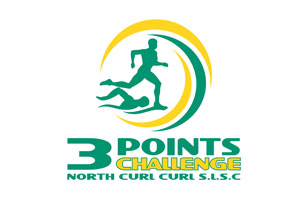 3 Points Challenge – Fuelled by True Protein
Saturday 7th December 2019
RACE SCHEDULE 2019
8.30am – True Mile Ocean Swim Registrations CLOSE
9.00am – True Mile Ocean Swim START (1600m)
9.30am – True Protein 3 Points Challenge Registrations CLOSE
9.45am – True Protein 3 Points Challenge Race Briefing on the beach
10.00am – True Protein 3 Points Challenge Race START
11.30am – Invitational True Dash for Cash (top 6 M/F from Ocean Swim & 3P)
(NB: Start time depends on when 3Points finishes) 
With $5000 of cash prizes to be won across the day, you don't want to miss out!
True Mile Ocean Swim
1600m swim
A 1600m ocean swim designed to test the mental fortitude of competitors.
Depending on conditions, the course will start from North Curl Curl, heading through the break around a turning can, before swimming on towards South Curl Curl and back, finishing at North Curl Curl.
True 3 Points Challenge
400m swim/1500m run/300m swim/1500m run/200m swim/3km run
A series of 3 Ocean Swims, swimming at North Curl Curl Point 400m, South Curl Curl Point 300m and Freshwater Point 200m, connected by a 1500m cross country run from North Curl Curl to South Curl Curl then a stunning 1500m boardwalk/coastal run around the headland into Freshwater Beach and undertaking the final swim. Competitors charge 3km back to North Curl Curl Beach via pathways, cross country and calf burning soft sand running, finishing at North Curl Curl Beach.

LOVE FOR LACHIE FOUNDATION
3 Points Challenge & Ocean Swim Charity Partner
The Love for Lachie group was established in loving memory of Lachie Muldoon who, at age 10, after experiencing mild headaches, was devastatingly diagnosed with an aggressive form of brain cancer. Lachie endured two invasive brain surgeries and a round of chemotherapy, but within six months of diagnosis, brain cancer had taken the life of this kind, fun-loving and brave boy, leaving all who knew him shocked and devastated.
Paediatric brain cancer of this type is a devastating, aggressive and fast growing disease and is the number 1 killing disease of children in Australia. Research for children's brain cancer has been grossly underfunded for many years, limiting the options for treatments and trials for kids in Australia, and leaving parents without hope.
Since the inception of the Love for Lachie Foundation in 2016, the group has raised more than $1 million for children's brain cancer research, supporting the work of Professor Kerrie McDonald, CEO Cure Brain Cancer (formerly of UNSW Lowry Brain Cancer Research Centre) and Dr Nick Gottardo, Co-Head, Brain Tumour Research Telethon Kids Institute. Love for Lachie is an authorised fundraising partner of The Kids Cancer Project, Cure Brain Cancer and the Tour De Cure charities. Currently, the Foundation is working on an international collaborative immunotherapy trial amongst Australia, the USA, and Europe which will see Australian children receive unprecedented access to a world-leading clinical trial. The three-year budget of the trial will be $A1,000,000, with confirmed budgets, trial protocol and timelines to be released shortly.
Please donate along with your online entry.
All donations are tax deductible. You will be issued with a tax receipt from the UNSW when your donation is processed.
THANK YOU TO OUR SPONSOR
True Protein provides a range of premium nutritional supplements and health foods for fitness enthusiasts. Products are clean, all natural protein supplements developed by experts to give your performance the edge. Click here to learn more.