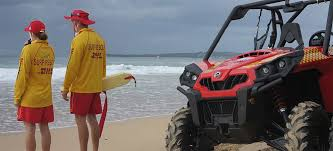 The SLSA Side-by-Side Vehicle (SSV) Operator Induction is used to assess the competency of SLS members for the safe operation of their lifesaving service's SSV.
EXISTING SLSA TERM NEW TERMINOLOGY
All-Terrain Vehicle (ATV) Side-by-Side Vehicle (SSV)
Definitions:
TERM DEFINITION
All-Terrain Vehicle All-Terrain Vehicles (ATVs) or Quad Bikes – have a saddle type seat that is designed for a single operator, handlebars for steering control and may be either two or four-wheeled drive. This type of vehicle is not permitted for SLS operations.
Side-by-Side Vehicle Side-by-Side vehicles or SSVs refers to small vehicles designed for off-road use. They have a bench-type seat, have a steering wheel and are designed to transport more than one person. These may also be known as: x Utility Task Vehicle (UTV) x Multi-Terrain Utilities, or x Recreational Off-Highway Vehicle (ROV). SSVs are also equipped with a minimum of four or more low pressure high flotation tyres, and generally have a tray-back designed for carrying small loads.
Prerequisites To participate in a SLSA SSV Operator Induction and operate an SSV, participants must meet the following requirements:
– be at least 17 years of age on the date of the induction. x must hold a current Australian car driver's licence;
– the licence must not be expired or suspended/cancelled – the licence can be a provisional or full/open driver's licence – provisional licence holders should be aware of any towing restrictions and must display their 'P' plates at all times on the front and rear of the SSV.
Induction content The SSV Operator Induction should cover the following topics/tasks as a minimum:
1. Familiarisation with the SSV used at your location.
2. Familiarisation of your local SSV manufacturer's guidelines.
3. Familiarisation of the following SLSA Codes of Conduct: Powercraft Code of Conduct x SSV (ATV) Code of Conduct .
4. Knowledge of your state/territory's standard operating procedures relating to ATVs (SSVs).
5. Knowledge of your local lifesaving service operating procedures relating to ATVs (SSVs)
6. Demonstration by each participant that they can operate the SSV according to their state/territory's standards and requirements.
Induction sign off The SSV Operator Induction does not include formal assessment however each participant must demonstrate their ability to operate a SSV according to the SSV Operator Induction Observation Checklist, as well as meet their state/territory's standards.
Codes of Conduct
Powercraft Code of Conduct Safety Ensure the safety of yourself, your crew and the public. Regularly assess risks while operating powercraft and promote safety at every opportunity.
Limitations Understand the limitations of your craft and crew in different conditions. Always aim to maintain a high level of competency.
Search and Rescue SLS powercraft are part of emergency service operations. Always have your craft ready to respond and follow standard operating procedures.
Craft Your craft is highly visible. Always demonstrate a culture of safety and respect the rights of others in the water.
SSV (ATV) Code of Conduct Act Responsibly with Care and Professionalism The SSV operator has a responsibility to the patrol, the community and the organisation to act in a responsible and considerate manner before, during and after the operation of the SSV. SSV operators are required to respect the coastal environment, ensuring that minimal impact is made on the environment by keeping to established trails where possible.
Promote a Culture of Safety SSV operators must maintain the safe operation of the SSV, safety towards the public and themselves. SSV operators must understand their role in assessing risk while operating the vehicle. Promote safety at every opportunity.
The SSV is High Profile SSV operators must understand that SSVs are regarded as 'high profile' as they attract significant public attention. They are a large, powerful and potentially unstable and hazardous piece of equipment and must be treated with the utmost respect. SSV operators are responsible for maintaining a good public image and observing safe driving techniques at all times. The speed, noise, power and smell of the vehicle can be both annoying and frightening. Respect the right of the public to enjoy their time at the beach.
Understanding your Limitations SSV operators must respect and understand their limitations, the operating environment and the capabilities of the SSV. The SSV operator is responsible for operating within their skill level.
Following Operating Procedures Follow the normal operating procedures as laid down by SLSA training manuals and policy. SSV operators should make themselves aware of relevant state and council by-laws that govern the use of the SSV within their local environment. SSV operators should hold the relevant department of transport licence for operating their lifesaving service's SSV. Read and understand standard operating procedures to keep up to date with current issues. SSV operators have a responsibility to ensure the continued successful operation of this rescue service to the community.
CLICK HERE FOR EXPRESSIONS OF INTEREST
Interested in completing the SSV induction course, click on link above or contact our CTO at 

education@nccslsc.com.au

.