NCC NEWS – SURF TO SHORE 26TH OCTOBER 2023
I would like to extend a heartfelt thank you to the dedicated members of Patrol 14, who demonstrated exceptional skills and dedication in providing first aid and ensuring a smooth transition to the ambulance in challenging circumstances. Your commitment to safety and well-being is truly commendable.
I would also like to express my gratitude to our remarkable volunteers on Patrol 14 – Darryl, Kim, Patti, Sinead, Ellie, Nick, Justin, and Carmel, who selflessly devoted their time and effort to ensure the safety of our community.
As we gear up for the Aquaculture 2km Ocean Swim and True Protein 3 Points Challenge scheduled for December 9, 2023, we are in need of volunteers to play crucial roles in this event's success. Our team leaders have been diligently appointed to oversee key areas, and they will be reaching out to members for assistance.
If you have the capacity to volunteer in areas such as water safety, first aid, registration, transition zones, or as a Course Marshal, we urge you to get in touch with us at president@nccslsc.com.au. Your contribution will be invaluable in ensuring the event's smooth operation.
This event holds significant importance as it stands as one of our club's major fundraisers. It truly is an "all hands on deck" situation, and your involvement will make a significant impact.
Lastly, I extend my sincere thanks in advance to our dedicated Patrol members who will be safeguarding our beach this upcoming weekend.
We look forward to seeing you on the beach and in the surf!
Glenn Slater
President
SURF TO SHORE
Heading to North Curl Curl Beach for a day of sun-soaked activities? Whether you're taking a refreshing swim, protecting our beach on patrol, strolling with your furry friend, sipping on a coffee or unwinding with a cold beer, we want to see it all!
Don't forget to tag us @nccslsc to share your love for this beautiful beach.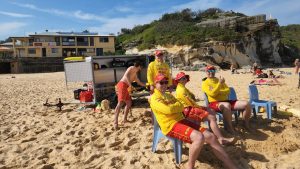 LIFESAVING
Exciting Updates Await! Our brand-new SSV has just rolled in, delivering an incredible driving experience, and it neatly fits in our shed with a board strapped to the roof! A huge shoutout to Greg Stretton for overseeing this from inception to completion.
Introducing the Frank Lindley, our latest addition to the IRB family. The IRB crew is thrilled with its performance. A big thanks to both Matts and the entire team who made this happen.
Last weekend presented some challenging waters, but our patrol teams were on point, clocking in ample paddle-time to rescue those who ventured a bit too far. Kudos to everyone for the skillful board rescues and the multitude of preventive measures taken.
Don't miss our proficiency session this Sunday morning, 29/10/2023 – remember to reserve your spot through the member portal. Keep catching those waves, and stay surf-safe!
Carmel Howard
Director of Lifesaving
NIPPERS
What a stellar day we had on the beach on Sunday! So great to see so many happy faces.
Sunday's conditions were perfect for the 'Intro to boards' course kick-off. If you're new to boards and in U9 or above, come and join the next session at 8.30am on Sunday before Nippers. It's on for another 5 weeks. A super safe environment for kiddos to learn the basics on the board.
Carnival season is in full swing with Beach Stormers (North Steyne), Sydney Water Carnival (Warilla Barrack Point) and Bennett Board Classic (Dee Why) held over the weekend. This weekend we have the Wanda "One Club" Carnival.
Nippers at NCC have the opportunity to compete at carnivals against other clubs (basically carnivals are an interclub version of nippers). Carnivals are open to U9s – U14s and are generally on Sundays. Kids can choose to compete in water events, beach events, or both. There are individual races and team races, and even marching events.
Our competitors range from 'having a go' right up to the NSW state champions – and we have a lot of fun hanging out and cheering each other on. We ask parents to pitch in and give us a hand with tents, wrangling the kids into the right places at the right times and officiating (keep an eye out for the roster).
The next local carnival will be a beach only carnival (sprints, beach flags, beach relays, 1km run) at Queenscliff on 5 Nov. Enter here by 30th Oct. The cost is $21. You can check out the carnival programs for start and finish times.
If you're interested in carnivals, speak to your age manager or attend one of the many training sessions during the week.
'Yellow Squad' board training is held every Tues & Thurs at 4.30pm to 5.30pm. It's for those who have completed 'Intro to boards' in the past or for older "beginners". Meet Coach Jason in front of the Club House.
The return of the BBQ last week was a huge hit! If you can spare an hour between 11am – 12.30pm to help out this Sunday please message Mark on WhatsApp 0417 148 437. It is greatly appreciated! Volunteers help to keep our costs down and our kids smiling.
The Uniform shop will be open on Sunday again from 8.30am to 10am for all your uniform needs.
And lastly, but importantly, if you are SRC or bronze proficient and able to assist with Water Safety on a Sunday please email nippers@nccslsc.com.au or come to the HQ tent at the beach on Sunday. Many thanks!
See you on the sand on Sunday!
Nick Lawry
Director of Junior Activites
SPONSORSHIP
A big Thank You to all our existing and new sponsors who continue to support our club generously. We appreciate it!
Interested in coming on board as a sponsor? North Curl Curl SLSC offers unique sponsorship and support opportunities, tailored to accommodate the diverse needs and preferences of individuals and businesses alike. By partnering with us, you have the chance to make a meaningful impact on the safety and well-being of our community while promoting your brand or values in a way that resonates with your audience. Whether it's promoting surf safety, supporting our nippers or talented competitors or engaging in events, we can craft a bespoke sponsorship package that aligns with your goals. To explore the possibilities and discuss how you can get involved, please reach out to our Director of Marketing via 
marketing@nccslc.com.au
,
 who will work with you to create a partnership that's both impactful and mutually beneficial.
We appreciate your support which is vital in helping us continue our mission of protecting lives and promoting a strong, thriving community
Manuela Curzon
Director of Marketing