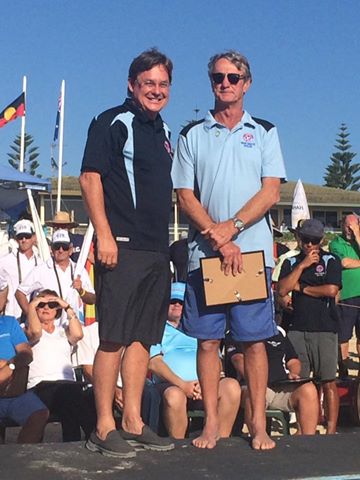 Long Time Club Member Honoured by SLSNSW
The Aldridge family has a long history with the North Curl Curl Surf Life Saving Club, going back many years. Terry Aldridge first gained his bronze medal at the club back in mid 60's, and later relocated to the lower north coast in the early 80's, and became a member of the Blackhead SLSC, where he has held the positions of Vice President and President. To this day he has maintained his membership at both clubs.
Terry is still well known amongst the older members of our club, and keeps across the happenings at North Curly. Our board riders would recognise him as he is very much involved with officiating at State & Aussies board riding events.
At this year's SLSNSW State Championships, Terry was awared Life Membership to SLSNSW, and was presented with his award on the final day of the event by SLSNSW President and North Curl Curl Life Member, David Murray. Congratulations Terry !!